first of all, sorry for my absence for these 12 days. On the wonderful morning of 14th of July, I stepped in a bus to Tallinn, later took a ship to Finland and in the surprisingly hot Finland`s evening (+32. It`s supersupersuper hot for Finland), I arrived in Nastola, a small city some 20 km from Lahti, where I spent most of the time. So that`s the reason why I haven`t been posting. I`m going home, back to Riga, tomorrow, but considering the fact, that I finally got to internet and I miss you all sososo much + I simply need to write (it`s like an addiction to me), I`m writing this post now. So there.
Although I`ve been to Finland for about a hundred milion times, I still can`t get over how beautiful this country is. And how nice the people are. And the sky. The sky is, well, pretty undescribable, if honestly. Last night, while I sat on the balcony and read hemingway (i`ve started reading him too, yes. and damn, he`s good!), I didn`t notice as the earth was slowly covered in twilight and the sun set. When I finally read the last word of "Farewell to Arms" and closed the book, only then I finally looked out the huge balcony windows and noticed that the silhouettes of trees were pitch black against the chilly sky, which looked as if a little girl had played with crayons on the lower levels of it and a painter had finished it in the upper. The bottom line was a light pink, which eventually grew darker and darker, until it turned to purple, and then to blue. As there hasn`t been a night here since 14th of July, when it has been dark, there wasn`t even a shadow of black there. There wasn`t an ending to the blue - slowly it covered itself in tiny grey clouds , which looked like tiny feathers. And even further there were stars shining like miniature diamonds and pearls in the night.
And it was breathtakingly beautiful. And I rarely say this about things.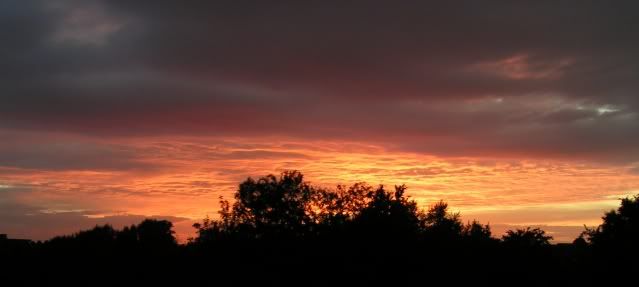 And each single day I take a picture of the sky. Which, I know, is a bit like "WHY?, simply - WHY?", but I like it.
And when I was in Estonia, while sitting in the bus and listening to Mumford & Sons in my headphones, I thought that Estonia`s sky looked like feelings.
and I`m wearing sneakers with red roses on them. very girly. pretty unnatural to me, but I love them. And I wish that I had a vase with these flowers in my room. And I really want my room to have these enourmous windows too. I have a thing for big windows. If I`ll ever have a house, all of the rooms will have gigantic windows.
And there are three smells I like in the world. I could never survive without them.
1. the smell of freshly cut grass. I`m in love with it since I was a little kid, lying in the meadow at my countryside, while there were bees flying around and the big blue sky was spread all over my head.
2. the smell of apples. always reminds me of those summers, when me and my cousins just sat in the trees, babbled and ate some juicy apples, which were almost white and tasted like honey.
3. the smell of fresh, crisp air in the sunrise. I only recently discovered it. I was alone at home and it was about four in the morning. The sun was slowly rising and my world was coloured in blue, light pink and fresh, crisp air. I opened all the windows in the house and sat in my room while watching the deserted streets and hearing some seagulls crying over the rooftops occasionally. I suddenly felt so calm and happy.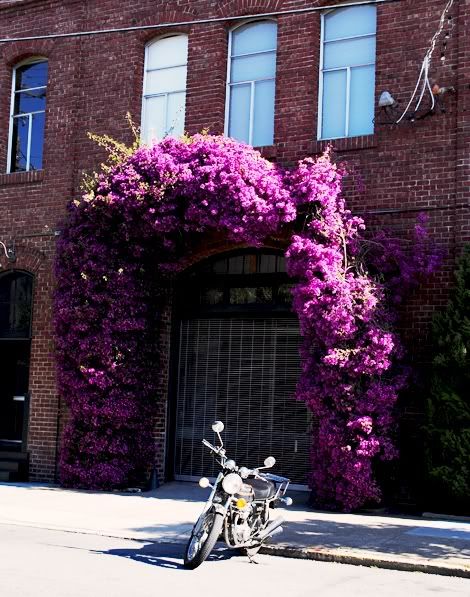 This picture makes me want to smile. All the sun and purple flowers. You know, it defines the term smile.
oh well, I have a ship to catch tomorrow morning. Better start packing.
currant of the day: the temper trap - sweet disposition